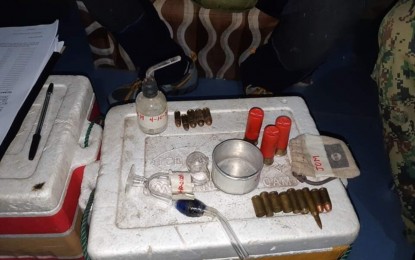 ---
GENERAL SANTOS CITY: An alleged "notorious" drug pusher was killed while another was arrested in separate police anti-drug operations in a village here on Saturday.
Maj. Brent Ian Salazar, chief of city Police Station No. 4, said on Sunday suspect Albert Tusoy alias "Bro Tusoy," 33, was slain in a shootout with their operatives after resisting arrest during a raid around 3:30 a.m. at his home in Purok 13 Panaghiusa of Barangay Mabuhay.
During the operation, he said the suspect refused to be searched, drew a handgun and attempted to escape.
Salazar said a brief firefight ensued that resulted in the fatal wounding of Tusoy, who was declared dead upon arrival at the city hospital.
Recovered from the slain suspect were a .45 caliber pistol with live ammunition, four medium and two small sachets of suspected shabu and various drug paraphernalia.
The police official said they launched the search operation after confirming reports on the illegal activities of the suspect, who was already jailed in the past due to a drug-related offense.
He said Tusoy was reportedly a "gun-for-hire" and involved in a number of hold-up and robbery cases.
"We submitted his firearm for ballistic examination and cross-matching with previous gun attacks here," Salazar said in a report.
Meanwhile, Police Station No. 4 operatives also arrested suspected pusher Roger Sarco, 38, in a raid around 1:50 a.m. in Malesido Homes, Barangay San Isidro.
Seized from the suspect's possession were 17 assorted bullets, an improvised all-weather pipe tooter and other paraphernalia.
Salazar said Sarco is a known pusher in the area and included in the watchlist of the city police and the Philippine Drug Enforcement Agency.
(Richelyn Gubalani/PNA/SRNY/RSP)