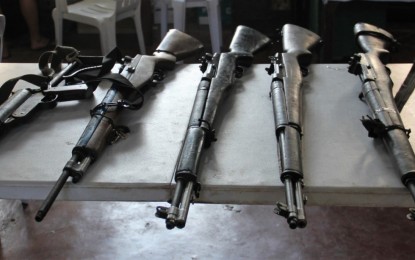 ---
CAMP SIONGCO, Maguindanao: The hold of the communist terrorist group New People's Army (NPA) in Sultan Kudarat has weakened with the surrender of five more of its members, including a ranking leader, on Tuesday afternoon.
The five have decided to avail of the government's amnesty program by returning to the fold of the law and turning over five high-powered firearms.
Early this week, nine other rebels surrendered to the military's 603rd Infantry Brigade in Kalamansig town.
"This is an indication the stronghold of the communist terrorist group is continuously weakening in Sultan Kudarat," Lt. Col. Rommel Valencia, commanding officer of the Army's 7th Infantry Battalion (7IB), said Wednesday.
Valencia did not disclose the identities of the surrenderers for security reasons but said one of them was an NPA political instructor.
He said the group, all members of the NPA Sub-Regional Committee Daguma, Far South Mindanao Region, yielded at the 7IB headquarters in Barangay Kalawag II, Isulan town.
The group also turned over three .30 caliber M1 Garand rifles, one M14 rifle, and one M79 grenade launcher.
Maj. Gen. Juvymax Uy, commander of the Army's 6th Infantry Division, said a total of 37 NPA combatants have surrendered to military units in Central Mindanao since January 1.
Uy urged other NPA members still in the mountains to surrender and live normal lives again with their families.
The NPA is listed as a terrorist organization by the United States, the European Union, the United Kingdom, Australia, Canada, New Zealand, and the Philippines.
(Edwin Fernandez/PNA/SRNY/RSP)