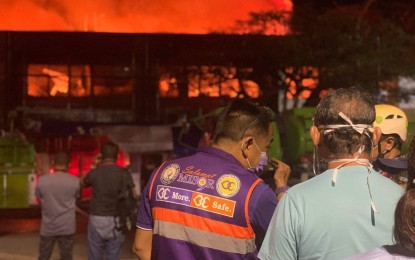 ---
CAGAYAN DE ORO CITY: Around 30 vials of CoronaVac vaccines were among the items damaged in a fire that broke out in one of the buildings of the Misamis Oriental Capitol Wednesday evening.
Supt. Alan Cabot, District Fire Director, said the vaccine container was safe, but unsure if these can still be used since storage of the vaccines requires low temperatures.
"The (Covid-19 vaccine) container remained sealed and unharmed, but we are not certain as to whether the temperature inside was still working or compromised," he told reporters.
Apart from the Covid-19 vaccines, other vaccine vials for polio and anti-rabies were also stored in the building where the Provincial Health Office (PHO), MisOr Cares, and Provincial Health and Insurance Office (PHIO) hold offices.
The blaze, estimated to have damaged PHP1.4 million worth of items, was declared "fire out" around 8:56 p.m.
The initial report from the Bureau of Fire Protection said the fire started around 6:38 p.m. and had also burned two vehicles at the motor pool area of the Provincial Engineering Department.
Both Gov. Yevgeny Vicente Emano and PHO chief, Dr. Jerie Calingasan went to check the place and did not leave until the fire responders declared the situation under control.
Emano said the affected employees would have to work in temporary spaces within the capitol grounds.
"We will prioritize (making an inventory of) what items were destroyed and can be salvaged. Some were working from home, and from there we may be able to recover softcopies and maybe tomorrow (April 15) afternoon we can continue working (even) in minimal (operation)," he said.
(Nef Luczon/PNA/SRNY/RSP)