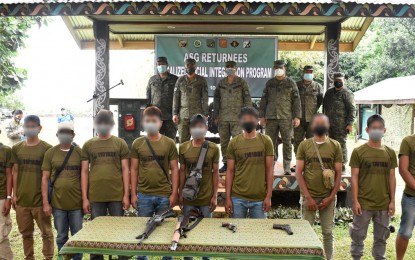 ---
ZAMBOANGA CITY: Ten members of the Abu Sayyaf Group (ASG) have peacefully surrendered to government authorities in the province of Sulu, military officials announced Monday.
Maj. Gen. William Gonzales, 11th Infantry Division commander, said they surrendered Saturday afternoon to the headquarters of the 1101st Infantry Brigade headed by Brig. Gen. Antonio Bautista in Barangay Samak, Talipao, Sulu.
The surrenderers were identified as Mis-al Sabtula under ASG leader Alden Bagadi; Marlon Aksan under sub-leader Raden Abu; Hasbi Mustamir, under the late ASG sub-leader Majan Sahidjuan alias Apo Mike; Alih Salim, Alwa Aidar, Faisal Amisar, Gager Ganih, Jamil Ganih, Hajul Arip and Musar Sakib Jumli, all under the late ASG leader Mohammad Said.
Bautista, who facilitated their surrender, said the 10 ASG surrenderers are from the municipality of Indanan, except Ganih, who is from Patikul.
Bautista said they turned over an M-16 Armalite rifle, one M1 Garand rifle, a cal. 30 Carbine and two .45 caliber pistols.
"I commend our 100th Infantry Battalion and 15th Civil Military Operations Battalion for actively reaching out to our brothers who now want to start anew. This is very timely as we approaching Ramadan," Bautista said.
Bautista presented them to Gonzales in a ceremony for their formal local integration held at the 1101st Infantry Brigade headquarters.
He said they decided to surrender to be reunited with their families and to start a new life.
Salim, 20, and Jumli, 21, who are siblings, revealed they joined the ASG sometime in 2016 when they were still teenagers upon invitation of a friend, according to Gonzales.
Gonzales said the two were just able to reach third grade as they have lost interest in education especially after their father left for Sabah.
He said that with pressure from their peers and the promise of instant cash, they ventured to go in and out the hinterlands of Sulu. The friend who recruited them has died with Mohammad Said during a clash with government forces in 2016.
"I hope that other members, either they be active ASG or lie-low, would also come forward. Admit they were ones lost and free themselves of fear that they may be reported to government forces or they might be tracked down by their former comrades. We will assure that these former members (of the ASG) will be assisted accordingly for they all pledged to actively help deny the ASG from taking refuge at their municipality," he added.
(Teofilo Garcia, Jr./PNA/SRNY/RSP)