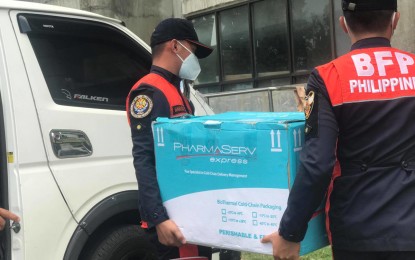 ---
GENERAL SANTOS CITY: Muslim residents here who will join the upcoming Hajj pilgrimage to Mecca, Saudi Arabia will be vaccinated starting Friday against the coronavirus disease 2019 (Covid-19).
Dr. April Mae Maquilang, the immunization program coordinator of the City Health Office, said they received some 48 doses of the Sinovac vaccine on Thursday from the Department of Health-Region 12 (DOH-12) to facilitate the inoculation of the pilgrims.
She said these were on top of the 1,440 single doses of Sinovac that were delivered before noon to the city's cold storage facility inside the city gymnasium in Barangay Lagao.
"We're currently making the arrangements for their vaccination," she told reporters.
The National Commission on Muslim Filipinos here earlier said the Hajj pilgrims are required to be vaccinated against Covid-19 as a travel and entry requirement to Saudi Arabia.
The delivered vaccines here were based on the number of Muslim residents who registered to join this year's Hajj pilgrimage, which opens next week in line with the start of the Holy Month of Ramadan.
Saudi Arabia's Ministry of Hajj and Umrah said that only "immunized people" will be granted permits to perform Umrah as well as prayers in the Grand Mosque in the holy city of Mecca.
These are individuals who have received two doses of the Covid-19 vaccine, those having received one dose of the vaccine at least 14 days before performing the pilgrimage, or a person who has recovered from the virus.
Meanwhile, Maquilang said the additional 1,440 doses of the Sinovac vaccines that arrived on Thursday are intended for the remaining individuals included in priority groups A1.6 to A1.7.
The Integrated Provincial Health Office of South Cotabato also received 2,082 doses, the fifth batch delivered to the area by the DOH-12.
The agency said these will cover the first doses of frontline health care workers in standalone facilities and clinics, diagnostic centers, dialysis centers, dental clinics, and other facilities for Covid-19 research.
Also included are those assigned in nursing homes, assisted living facilities, homes for the aged and related home care facilities, orphanages, jails, detention centers, correctional facilities, and drug treatment and rehabilitation centers.
(Richelyn Gubalani/PNA/SRNY/RSP)