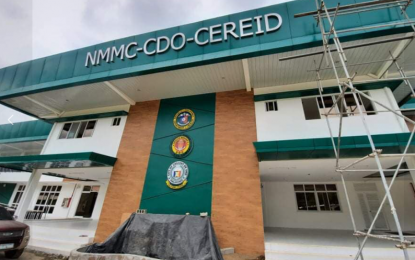 ---
CAGAYAN DE ORO CITY: Mayor Oscar Moreno said Tuesday he hopes the new infectious disease center here would cater not only to Region 10 but would also be Mindanao's own Research Institute for Tropical Medicine (RITM).

Moreno was referring to the Northern Mindanao Medical Center-Cagayan de Oro City-Center for Emerging and Reemerging Infectious Diseases (NMMC-CDO-CEREID), which will be turned over to the state-run NMMC on April 8.

While the facility was created to address the Covid-19 pandemic, Moreno said its long-term function would be as an infectious diseases hub for Mindanao, similar to Manila's RITM.

"It's a very ambitious dream, but hopefully, when this will be turned over (to NMMC), it will be a good launching pad for this dream (to happen)," Moreno said.

The NMMC-CDO-CEREID is a PHP46-million building furnished with medical equipment.

Situated in Barangay San Simon here, the two-level building has a floor area of 1,600 square meters within the 2.5-hectare lot area.

In an earlier interview with Dr. William Bernardo, chief of City Health Insurance Office (CHIO), who oversees the construction, he said the facility complied with the Department of Health (DOH) standards and is equipped with five wards that can house at least 75 patients.

The facility also has a Bio Safety Laboratory Level 2 section, which can test specimens for traces of Covid-19. He also said that even when the pandemic is over, the center can help address other cases of re-emerging diseases such as tuberculosis, among others.

"Since NMMC is considered an Apex hospital, and Cagayan de Oro is the regional center, it would be best that this facility would be put into good use," he said, referring to NMMC's important role in handling Covid-19 cases not only in the city but also to referred patients within Region 10.

Acting City Health Officer Dr. Lorraine Nery said that the facility can "diffuse" the Covid-19 surge, especially individuals who arrive from the National Capital Region.

"We don´t want a second wave or surge of Covid-19 cases if possible (similar to the National Capital Region), but we already have measures in place. Right now, we have fewer isolation units due to the decline in cases (but they remain on standby). And of course, more private hospitals increased their bed capacity to accommodate positive cases," Nery said.

NMMC liaison officer, Dr. Bernard Rocha, said they have protocols in place to deal with the surge, including dropping certain services to accommodate more Covid-19 patients.

"The CEREID facility in San Simon is perfect for us in terms of adding 72 beds which we can add more depending on what we receive. God forbid if a surge does occur, the public can be assured that the local health sector anticipated and is ready to handle it. We are monitoring the situation in NCR, and we never stopped preparing," he said.
(Nef Luczon/PNA/SRNY/RSP)