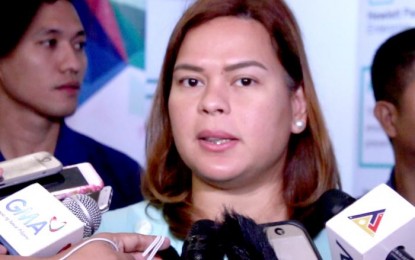 ---
DAVAO CITY: Mayor Sara Z. Duterte dismissed Monday the claim of leftist Bagong Alyansang Makabayan–Southern Mindanao Region (Bayan-SMR) that the National Task Force to End Local Communist Armed Conflict (NTF-ELCAC) budget was a "waste of people's money" amid the coronavirus disease 2019 (Covid-19) pandemic.

"I refuse to answer that. Their comments are not important," Mayor Sara said in an interview over Davao City City Disaster Radio.

In a statement on March 31, Bayan-SMR said Davao City is set to receive the largest chunk of the NTF-ELCAC's allocation of PHP1.6 billion under the agency's Barangay Development Program (BDP).

The group questioned where the budget would be spent.

During BDP's virtual launching here in February, the city government proposed that a huge chunk of this city's PHP1.6 billion allocation would go to road concreting projects in rural areas.
Under the BDP, an initiative under the National Task Force to End Local Communist Armed Conflict (NTF ELCAC), around PHP1 billion would go to road projects in the barangays, while the rest of the budget would fund basic infrastructures such as water system and health centers.

The local government's 82 barangays will get a share of PHP20 million each to fund the identified projects.

At least PHP347.5 million will go to the water system, PHP192.5 million for school facilities, PHP37 million for health centers,  PHP30 million for electrification, PHP25 million for evacuation centers, and PHP1 million for non-infrastructure projects.

Mayor Sara said the budget priorities reflected a human-centered approach to bring peace and development in rural areas "where government intervention is mostly needed, expected, and should be delivered on a regular and constant basis". 
(Che Palicte/PNA/SRNY/RSP)