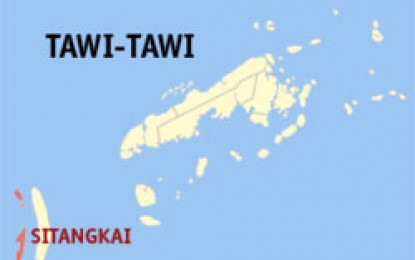 ---
ZAMBOANGA CITY: Nine crewmen of a wooden-hulled vessel that sunk after it caught fire at sea off Tawi-Tawi were rescued by troopers from the Marine Battalion Landing Team-12 (MBLT-12), military officials announced Tuesday.
Lt. Gen. Corleto Vinluan Jr., commander of the Western Mindanao Command (Westmincom), said the crew members, including three who were wounded, of M/L Marissa were rescued Sunday near Panguan Island, Sitangkai.
"Based on the report from Joint Task Force Tawi-Tawi, the motor launch boat, M/L Marissa, with nine Filipino crew members on board was loading gasoline from a tanker from Sabah when its generator battery sparked causing its explosion," Vinluan said.
He said the troopers brought the three wounded crewmen to a hospital in Sibutu after providing them first aid.
Lt. Col. Aladdin Caluza, MBLT-12 commander, said the troops of the 312th Marine Company based in Panguan Island, the farthest island detachment, together with the Municipal Disaster Risk Reduction Management Office personnel of Sitangkai responded and found another vessel, M/L Hasana, at the site of the incident.
Caluza said Abi Usman, the skipper of M/L Hasana, told the MBLT-12 troops that there were three vessels in the area, including his, at the time of the incident.
Quoting Usman, Caluza said the other two vessels include a gasoline tanker from Sabah and the M/L Marissa that caught fire and sank in an area that is the meeting point of fuel traders from Malaysia and the Philippines.
The rescued crewmen were turned over to the municipal government of Sitangkai.
"We are happy to be able to assist our countrymen in this part of the country. I commend our Marines for their untiring dedication and unyielding commitment to serving the people and the state. They risked their own lives and safety by utilizing a small boat to respond to the sea mishap. We are glad that all went well and all the crew members were safe," said Brig. Gen. Arturo Rojas, Joint Task Force Tawi-Tawi commander. 
(Teofilo Garcia, Jr./PNA/SRNY/RSP)