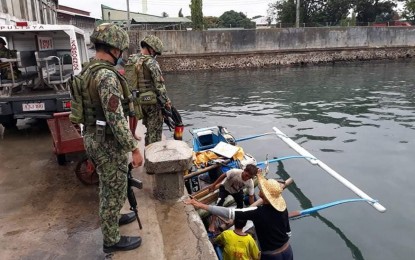 ---
ZAMBOANGA CITY: Mayor Maria Isabelle Climaco-Salazar on Thursday issued an urgent appeal for public cooperation on health protocols following observations that coronavirus disease 2019 (Covid-19) cases in the city are gradually increasing.
This developed as Salazar directed security forces to intensify measures to keep people safe and protected from the risk of contracting Covid-19 and its new variants.
Strengthened measures include stepping up patrols in the border and coastal areas, including wharves to monitor compliance to Covid-19 protocols by inbound travelers.
Salazar said based on the Covid-19 data tracker, the active cases here rose to 92 from the previous 85 as of March 29.
The confirmed Covid-19 cases totaled 4,325 with 4,039 recoveries and 194 recorded deaths.
The mayor likewise urged government personnel doing front-line services to "limit (the) mobility of all personnel and abide by Covid-19 protocols in and out of duty".
She also ordered them to "avoid drinking sprees to include parties and unnecessary activities when not on duty".
Police station commanders, meanwhile, are directed to enforce measures to personnel and people under their care.
"We tighten border patrol, prevent illegal entry otherwise we put our city at risk. Exercise measures, limit face-to-face meetings. Discipline non-compliant government personnel due to the risk they will bring in the facility," Salazar added.
Meanwhile, City Administrator Apple Go has convened concerned agencies Wednesday afternoon to form a stronger enforcement team that will monitor compliance with Covid-19 protocols.
Go said additional representatives from concerned government agencies will be named to form part of the Compliance Team, which will monitor events compliance, Roving Patrol, Transport Compliance, and Business Establishments Compliance.
The team's functions include periodical assessment of the level of compliance in various establishments and to establish a culture of social distancing; to provide a reliable source of regulatory information to the Local Government Unit; and to ensure that health, hygiene, and Covid-19 prevention measures are strictly followed.
(Teofilo Garcia, Jr./PNA/SRNY/RSP)