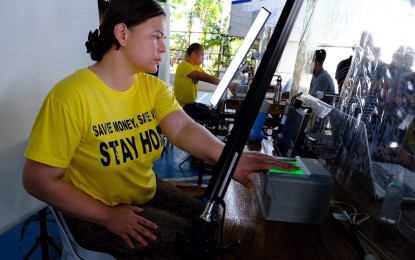 ---
DAVAO CITY: Mayor Sara Z. Duterte registered for the Philippine Identification System (PhilSys) or National ID System at the Barangay Catalunan Grande registration site Tuesday afternoon.

In a Facebook post on the city government's official page Wednesday, Duterte is seen taking her biometrics along with various city government employees.

According to the Philippine Statistics Authority (PSA), the unified identification system aims to promote seamless delivery of service, improve efficiency, transparency, and targeted delivery of public and social services, and enhance administrative governance.

"Dabawenyos are also urged to register for the National ID whenever registration is available in their respective barangays. Barangay officials and functionaries will notify their constituents for the schedule of registration in their areas," the city government said.

PSA aims to initially register five million heads of low-income families in the country, then regular registration for the general public follows until the year 2022.

Signed into law by President Rodrigo R. Duterte in August 2018, Republic Act 11055, or the Philippine Identification System Act, aims to establish a single national ID for all Filipinos and resident aliens.

The national ID shall be a valid proof of identity that shall be a means of simplifying public and private transactions, enrollment in schools, and the opening of bank accounts.

It will also boost efficiency, especially in dealing with government services where people will only need to present one ID during transactions. 
(Prexx Marnie Kate Trozo/PNA/SRNY/RSP)