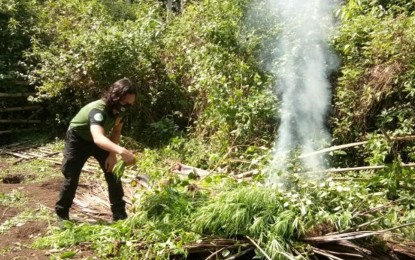 ---
ZAMBOANGA CITY: Lawmen burned some PHP21 million worth of marijuana and seized the illegal assets of an alleged drug supplier of the Abu Sayyaf Group (ASG) bandits in Sulu, officials announced Saturday.
Col. Hernanie Songano, commander of the 4th Marine Brigade, said fully grown marijuana plants were discovered Friday in two plantation sites in Barangay Masjid Punjungan, Kalingalan Caluang town.
Songano, also the Naval Task Group-Sulu commander, said the plantations, with a total area of two hectares, were discovered through the joint efforts of his command, the Philippine Drug Enforcement Agency (PDEA)-Sulu, and Sulu Police Provincial Office.
He said the alleged owner of the plantations, identified only as Utoh, was not around during the raid.
"We have burned the marijuana on site and we will continue to scour the area to locate other possible sites of marijuana plantation," he said in an interview.
Maj. Gen. William Gonzales, 11th Infantry Division commander, said joint Marines, PDEA and police also recovered some PHP81,600 worth of suspected shabu, PHP5,000 cash, and gun parts in the municipality of Omar.
Gonzales said the seized items belong to Dawam Awam (alias Gabriel Silbiñis), a drug dealer operating in Omar and adjacent municipalities in the second district of Sulu.
Songano said Awam, aside from supplying illegal drugs and marijuana to ASG bandits, is also a known gunsmith in Omar. 
(Teofilo Garcia, Jr./PNA/SRNY/RSP)