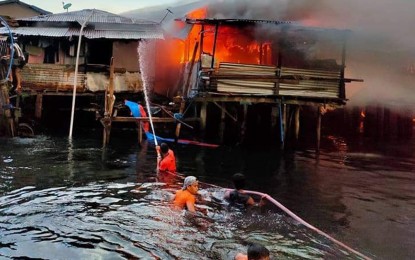 ---
ZAMBOANGA CITY:The city government has mobilized resources to assist some 500 individuals displaced by a fire that hit early Saturday the coast of Barangay Baliwasan.

Mayor Maria Isabelle Climaco-Salazar said she has already ordered the City Social Welfare and Development Office (CSWDO) to provide immediate relief assistance to the fire victims.

Salazar also instructed CSWDO chief Socorro Rojas to assign personnel to do the profiling of the fire victims.

The mayor also appealed for public support and assistance to the affected individuals, who were evacuated to the Baliwasan Central Elementary School's covered court.

Chief Insp. Jacqueline Ortega, Zamboanga City Fire District (ZCFD) chief, said that some 200 houses, mostly made of light materials, were razed by the fire at the seaside of Barangay Baliwasan.

Ortega said that the fire broke out in an unoccupied house that rapidly engulfed the nearby houses in the closely-built coastal community.

At least 12 fire trucks from different ZCFD's sub-stations responded to the fire call at past 4:30 a.m., she said.

Firefighters of the Philippine Coast Guard (PCG) also responded to assist the ZCFD personnel in extinguishing the fire.

Ortega said the fire investigator is still conducting an assessment to determine the worth of properties that were damaged during the incident.
(Teofilo Garcia, Jr. and Salvador Santiago/PNA/SRNY/RSP)