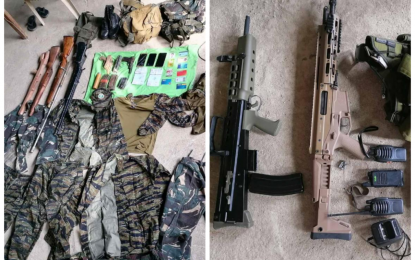 ---
CAMP SIONGCO, Maguindanao: Government forces pursuing Daesh-inspired Bangsamoro Islamic Freedom Fighters (BIFF) in Maguindanao have recovered guns and improvised explosive devices (IEDs) from the fleeing extremists.

Col. Pedro Balisi, commander of 1st Mechanized Infantry Brigade, said Saturday that ongoing clearing operations on the path of withdrawal by BIFF gunmen resulted in the recovery of four assorted rifles, a 12-gauge shotgun, seven IEDs, three handheld communication radios, subversive documents, and fatigue uniforms.

"We have been pursuing the BIFF since Thursday (Mar. 18) following the first encounter with government troopers in Barangay Kitango of Datu Saudi Ampatuan town," Balisi said.

A military update said five BIFF combatants have been killed so far in the clashes, with two others wounded. On the government side, three troopers have been slightly injured.

He said the encounter that sparked Thursday had resulted in pocket skirmishes in the so-called SPMS box–a military term for the adjoining towns of Shariff Aguak, Pagatin (Datu Saudi Ampatuan town), Mamasapano, and Shariff Saydona Mustapha where the BIFF operates.

"Military clearing operations are ongoing to drive out the violent extremists belonging to the BIFF factions of Kagui Karialan and Abu Toraife in the SPMS box," Balisi said.

Meanwhile, the Office of the Civil Defense in the Bangsamoro Autonomous Region in Muslim Mindanao recorded some 4,194 families displaced by the conflict.

Raylindo Aniñon, OCD-BARMM director, said relief teams from the affected towns are currently attending to the needs of the evacuees.
|
Major General Juvymax Uy, Army's 6th Infantry Division commander, has placed all military units in Central Mindanao on heightened alert to thwart any attack plotted by the BIFF against communities and military installations in the region.
(Noel Punzalan/PNA/SRNY/RSP)