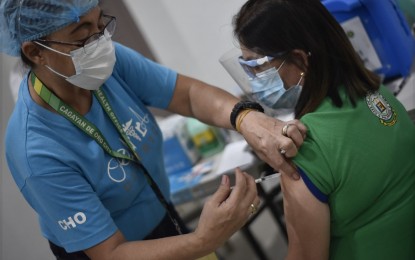 ---
CAGAYAN DE ORO CITY: Northern Mindanao obtained the highest rate in administering the first doses of the coronavirus disease (Covid-19) vaccines in the country, data provided by the Department of Health (DOH) showed.
In a recent report, DOH said Region 10 recorded 90.2 percent vaccination rate from the 39,400 doses it received from both Sinovac and AstraZeneca vaccines.

The other top four regions that achieved high vaccination rates are the National Capital Region (68.7 percent of the 278,870 doses); Region 2 (61.3 percent of 31,980 doses); Region 9 (56.3 percent of 30,000 doses); and Region 6 (55.8 percent of 47,160 doses).

DOH said out of the 1.1 million doses received by the country so far, 96 percent has been distributed across 929 vaccination sites.

Dr. Ted Yu, chief of the city's Data Management and Monitoring and Evaluation Task Group, said the local government has inoculated at least 6,003, or 98 percent, front-line medical workers in private and public hospitals from March 14 to 16. The city's eligble front-line workers have around 9,436 total population.

Local health authorities said they have started the vaccination drive for community healthcare workers Wednesday.

Dr. Lorraine Nery, acting chief of the City Health Office (CHO), said the rapid rollout of the vaccines meant that the city is way ahead of schedule, noting that the vaccination for barangay health workers was originally slated in the third quarter of the year.

"We are working to meet the (vaccine) allocations, and as soon as these are being in the rollout, we will summarize and make assessments of the areas that need to improve and where we would lag behind," Nery said. 
(Nef Luczon/PNA/SRNY/RSP)