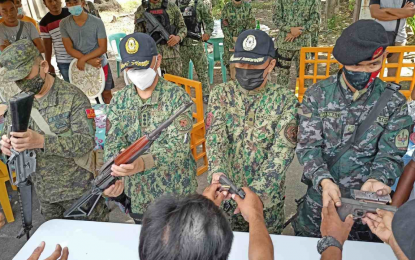 ---
COTABATO CITY: The Army-led Joint Task Group Kutawato (JTGK) has facilitated the settlement of a long-standing family feud here, the military announced Friday. 
Col. Jose Ambrosio F. Rustia, commander of the JTGK, said the two feuding groups were the family of Ansari Kadatwan, chairperson of Barangay Tamontaka 3, and that of Theng Salik, a former "tanod" (watchman) in the same village.
On Thursday afternoon, the families settled their differences after weeks of mediation.
"The settlement was made possible through the combined efforts of (the) JTGK and city police in close coordination with the city mayor's office," Rustia said.
It was not clear what triggered the clan war and how many lives have been lost during their misunderstanding.
"No one from both sides would like to talk about it," he said, adding that both families agreed to surrender their firearms and committed to ending their bloody conflict.
The surrendered firearms consisted of an M16 rifle, a Carbine rifle, and two .45-caliber pistols.
Maj. Gen. Juvymax R. Uy, the Army's 6th Infantry Division commander, lauded the efforts of the JTGK, the city police, and local government officials in selflessly reaching out to both parties to forge a peaceful settlement of their differences.
"I commend our troops for promoting peace and unity to the families who made the realization to bring an end to their quarrel," said Uy, who also heads the Joint Task Force Central.
 (Edwin Fernandez/PNA/SRNY/RSP)