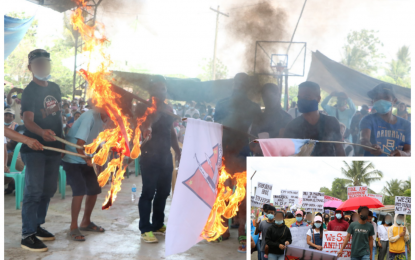 ---
COTABATO CITY: Twenty-five former members of the New People's Army (NPA) operating in North Cotabato have pledged allegiance to the government on Monday, after denouncing their membership with the communist movement.
The oath-taking of the former rebels, who surrendered to the military on Sunday, was witnessed by their relatives and some 1,000 residents of Barangay Luz in M'lang town.
On Tuesday, M'lang Mayor Russel Abonado said the village officials and former supporters of the communist movement in the village have voluntarily declared the NPA as "persona non grata".
He said in the past, the rebels had "some influence" in the villages of La Suerte, La Fortuna, Palma Perez, and Luz. "For that reason, the Army had conducted community support program in these villages to encourage the rebels to surrender and avail of government services," Abonado said.
After the former rebels denounced the movement, various government agencies have provided services to the people, most of whom claimed it was their first time to receive government services such as on health, and securing of documents from the Philippine Statistics Authority, Department of Agrarian Reform and the Land Bank of the Philippines.
Former NPA member Carlos "Boy" Peña said he decided to heed the call of his family and friends to turn away from the communist movement as it has done nothing good to him and his relatives.
"The Army diplomatically convinced me to surrender, they did not harm me or threaten me. My decision to come out was based on my free will," he told reporters in the vernacular during an interview.
Abonado lauded the Army's 90th Infantry Battalion for applying a diplomatic approach in bringing peace to the village of Luz and nearby areas.
The NPA, together with the Communist Party of the Philippines and the National Democratic Front, is listed as a terrorist organization by the United States, European Union, the United Kingdom, Australia, Canada, New Zealand, and the Philippines. 
(Edwin Fernandez/PNA/SRNY/RSP)