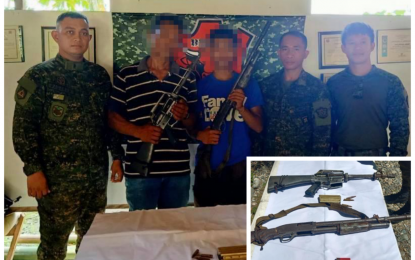 ---
CAMP SIONGCO, Maguindanao: Tired of being always on the run, two members of the communist New People's Army (NPA) have surrendered to troops of the Army's 38th Infantry Battalion (IB) in Palimbang, Sultan Kudarat Monday afternoon, the military here said Tuesday.
In a report to the 6th Infantry Division, Lt. Col. Anhouvic Atilano, newly-designated commander of the 38IB, said the two, identified only as Ka Ricky and Ka Bogs, decided to lay down their arms after being convinced by their former comrades who earlier availed of the government's program for surrendering rebels.
"We are weary and we miss our families very much," Ka Ricky, one of the surrenderers, told reporters in an interview.
Atilano said the two belonged to the Platoon Myphone of the New People's Army (NPA) Guerilla Front 73 operating in the peripheries of Sultan Kudarat, Sarangani, and South Cotabato provinces.
The two also yielded an M16 rifle and a 12-gauge shotgun during their surrender in Sitio Compaq, Barangay Batang-Bagras.
"Both are eligible for the benefits under the government's Enhanced Comprehensive Local Integration Program (E-CLIP) for surrendering insurgents," Atilano said.
Under the E-CLIP, the surrenderers will receive immediate assistance of PHP15,000 as firearm remuneration based on the type of surrendered firearms and PHP50,000 as livelihood aid.
Maj. Gen. Juvymax Uy, 6ID commander and concurrent head of Joint Task Force Central, lauded the communities in Palimbang for their continued support to the peace initiatives of the government to the point of even facilitating the turnover of surrendering rebels to authorities.
"I commend the support of the communities, particularly on their efforts in assisting the peaceful surrender of rebels who wanted to start a new life with their families," he said.
The NPA, together with the Communist Party of the Philippines and the National Democratic Front, is listed as a terrorist organization by the United States, European Union, the United Kingdom, Australia, Canada, New Zealand, and the Philippines. 
(Noel Punzalan/PNA/SRNY/RSP)