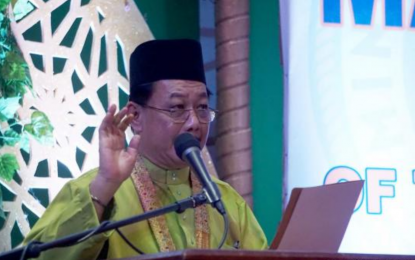 COTABATO CITY: The Ministry of Public Works (MPW) in the Bangsamoro Autonomous Region in Muslim Mindanao has allocated some PHP1.8-billion worth of infrastructure projects for this city and North Cotabato's 63 villages.
"The allotment was given to Cotabato City and the 63 villages in North Cotabato after they opted to join BARMM during the two-part plebiscite held on January and February 2019," MPW Minister Eduard Guerra said in a statement Monday evening.
The two areas' supervision was turned over by the national government to the BARMM in December last year.
Guerra said the amount forms part of the total PHP15-billion appropriations by the BARMM to its component areas for this year.
Aside from the city and the 63 North Cotabato villages, other component areas of BARMM include the cities of Marawi and Lamitan, and the provinces of Maguindanao, Sulu, Tawi-Tawi, and Lanao del Sur.
"These projects will stimulate economic activities in the two areas and will also improve people's access to social services," Guerra said.
In the North Cotabato villages, he said 63 road projects, three bridge projects, and a slope protection project, all worth PHP1.48 billion, will begin construction next month.
He said some 20 BARMM villages in Pikit town would receive the biggest budget of PHP445-million for 22 road projects.
The second biggest allotment is granted to Pigcawayan in the amount of PHP298.96-million, comprising of 12 road projects worth PHP231.96-million, a bridge project worth PHP60-million, and a slope protection project worth PHP7million. This is followed by Kabacan with PHP279.2-million for seven road projects worth PHP259.2-million and a bridge project worth PHP20-million.
Guerra added that BARMM villages in Midsayap, Carmen, and Aleosan towns would also receive infrastructure projects this year worth PHP217-million, PHP208-million, and PHP32-million, respectively.
On the other hand, Cotabato City is set to receive this year PHP370-million worth of road and other public works in all of its 37 barangays.
Guerra said the construction of these projects is part of MPW's vision of increasing strategic and climate-resilient infrastructure to support sustainable socio-economic development in the BARMM. 
(Edwin Fernandez/PNA/SRNY/RSP)