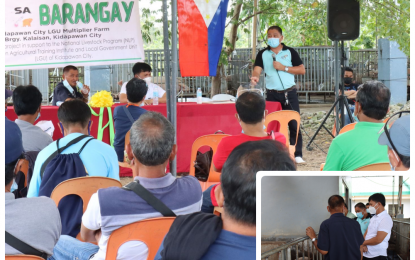 COTABATO CITY: Veterinary officials of Kidapawan City in North Cotabato and the Department of Agriculture (DA) 12 (Soccsksargen) have launched the "Artificial Insemination (AI) sa Barangay" project aimed at boosting local hog production.
Dr. Ellaine Mahinay, city veterinary deputy officer, said Wednesday the initiative came amid the reported shortage of hog meat products in the city and nearby towns.
Kidapawan City had just reeled from the African swine fever (ASF) that has affected at least five hog-producing villages since last year.
More than 500 hogs were culled since the ASF infestation struck the city in August 2020.
Other towns affected by ASF and still recovering are Arakan, Magpet, Makilala, and President Roxas.
"We hope that through the project, hog production will be active here again through the high quality of swine breed," Mahinay said.
The AI on swine is widely practiced in countries with intensive pig production. The semen is obtained from boars on farms or from specialized AI centers.
"We are ready and excited at the same time for the project," Abdul Daya-an, director of DA-12's Agricultural Training Institute, said referring to the venture that opened at 7:30 a.m. at the multiplier farm in Barangay Kalaisan on Wednesday.
Kidapawan City has more than 200 hog raisers in the villages of Gayola, Linangkob, Mua-an, Paco, and Sikitan.
The first ASF case in the province was recorded in Magpet in June last year. 
(Noel Punzalan/PNA/SRNY/RSP)