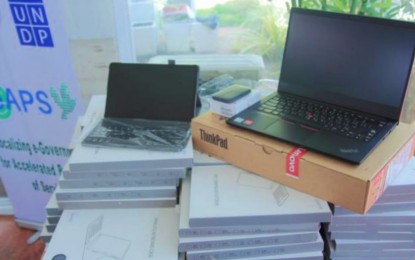 COTABATO CITY – The municipal field offices of the Ministry of the Interior and Local Government of the Bangsamoro Autonomous Region in Muslim Mindanao (MILG-BARMM) received Monday various information and communication technology (ICT) equipment.
Lawyer Naguib Sinarimbo, MILG-BARMM minister and concurrent regional spokesperson, said the PHP3.9-million worth of various ICT equipment was procured by the MILG through the United Nations Development Program under the region's "Localizing e-Government for Accelerated Provision of Services" (LeAPS) initiative.
The equipment consists of 122 android tablets, 122 wireless keyboards, 15 laptops, and 300 pieces of pocket Wi-Fi.
When the coronavirus disease pandemic broke out last year, Sinarimbo said production and supplies globally became a major challenge due to the difficulty in procuring ICT equipment locally.
"We then partnered with UNDP through our Project LeAPS to allow us to utilize their global network and get access to these types of equipment at a standard price," Sinarimbo told reporters here in an interview Monday.
The LeAPS program seeks to transform local governance in the BARMM by considerably accelerating connectivity in communities through improved access to services and information, community enterprise development, assisted rural e-commerce, and skills development.
The program is also a way to overcome the reliance on archaic, paper-based, and manual processes within and among the local government units in the region. 
(Noel Punzalan/PNA/SRNY/RSP)