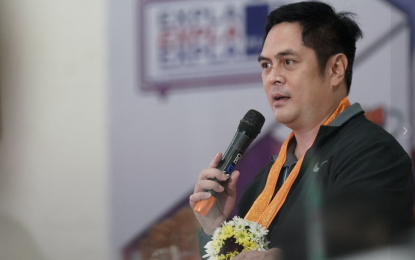 CAGAYAN DE ORO CITY: Presidential Communications Operations Office (PCOO) Secretary Martin Andanar on Tuesday reminded the Sangguniang Kabataan (SK) officials in Misamis Occidental of their role in helping the government spread the right information in combating the coronavirus disease (Covid-19).

In a dialogue held in Ozamiz City, Andanar urged the young officials in the province to be one with the government in disseminating correct information and counter misinformation with truth, especially with their contemporaries and in their communities.

He also lauded the SK for pushing "fresh ideas and initiatives" that seek to "upgrade old ways of thinking" to help the nation to grow and evolve.

Andanar also listened to the issues and concerns of the SK and offered his assistance in their respective campaigns in the midst of the pandemic.

"Never in the history of SKs that there has been a challenge such as this pandemic; the more reason I believe that our country will demand and need good leaders," he said.

Andanar also underscored the participation of what he said is an often overlooked and underestimated demographic, noting that the country's youth population– specifically the 15-24 age group–currently stands at 19.8 million, based on last year's Labor Force Survey by the Philippine Statistics Authority.

"The national government needs to reach out to the youth, to talk and explain on why they are urged to stay at home," Andanar said, adding that the youth has more chance of understanding and listening to one another, especially in relaying important information.
Meanwhile, PCOO promised to provide local governments in Misamis Occidental province a communications toolkit for the information dissemination of Covid-19 vaccines.
Undersecretary Mon Cualoping, Director-General of Philippine Information Agency, told local stakeholders and local chief executives that these toolkits aim to streamline and educate their constituents the importance of getting inoculated with the upcoming vaccines so that the province will contribute to the national government's aim of at least 70 percent targetted population in order to achieve a herd immunity against Covid-19. 
(Nef Luczon/PNA/SRNY/RSP)