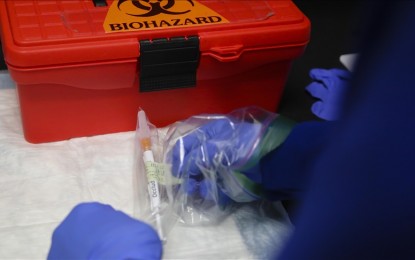 WASHINGTON: The US has finalized agreements to secure 200 million more coronavirus vaccine doses, President Joe Biden announced Thursday.
The announcement fulfills a pledge the president made in January to buy 100 million more doses each of Pfizer-BioNTech and Moderna's vaccine.
The purchase increases the US vaccine supply by 50%, allowing roughly 300 million people, or most of the American population, to be fully vaccinated.
Both of the vaccines require two separate doses spaced weeks apart. But there have been problems with distribution with some doses going to waste.
Biden said his administration has been able to expedite the delivery of the additional doses, and they will now be delivered by July. Originally, officials estimated that the additional orders would not be fulfilled until the end of summer.
Pfizer and Moderna have agreed to further expedite by a month the delivery of about 100 million doses that were not originally planned for delivery until the end of June.
"That means lives will be saved," Biden said at the National Institutes of Health.
"We're now on track to have enough supply for 300 million Americans by the end of July. That may not sound like the urgent progress we need, but let's be clear: when I took office just three weeks ago, this country did not have a plan, or enough vaccines, or people to vaccinate Americans."
In the roughly two months since the Pfizer and Moderna vaccines were approved, about 46.4 million people have received at least one dose.
The US remains the country hardest-hit by the pandemic with over 27.3 million confirmed cases and nearly 475,000 deaths, according to data compiled by Johns Hopkins University. 
(Anadolu/PNA/SRNY/RSP)