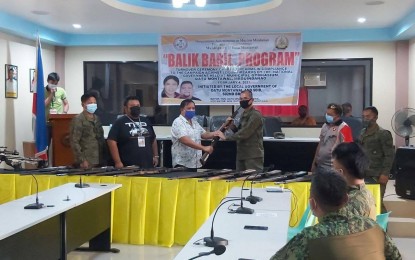 CAMP SIONGCO, Maguindanao: Local officials of Datu Montawal town in Maguindanao turned over a dozen assorted firearms to the Army here on Thursday.
Brig. Gen. Roberto Capulong, Army's 602nd Infantry Brigade commander, accepted the firearms during a ceremony held at the town's Sangguniang Bayan session hall.
Datu Montawal Mayor Ohto Montawal led the hand over of the loose firearms to Capulong that included nine Garand rifles, a .30-caliber Muzzle rifle grenade launcher, a .30-caliber homemade sniper rifle, and a Carbine rifle.
Maj. Gen. Juvymax Uy, Army's 6th Infantry Division commander, and concurrent Joint Task Force Central chief said only military troopers, police, and other law enforcement agencies are allowed to possess and carry firearms.
"Those people who unlawfully carry or possess firearms will be subjected to law enforcement operations," Uy said in a statement Friday.
He added though that the government disarmament program remains open to everyone who wishes to turn in their unlicensed guns.
(Edwin Fernandez/PNA/SRNY/RSP)