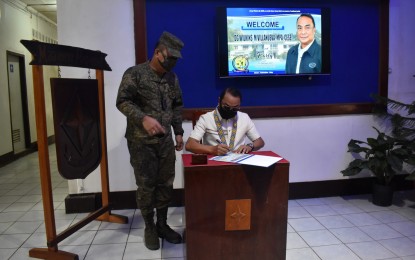 CAGAYAN DE ORO CITY: The Army's 4th Infantry Division (4ID) and the Philippine Drug Enforcement Agency (PDEA) signed an agreement on Monday to combat illegal drugs in Northern Mindanao and Caraga regions.
Signed by Director-General Wilkins Villanueva and 4ID commander Maj. Gen. Andres Centino at the 4ID headquarters here, the agreement seeks to harness both parties' resources to heighten the government's war on illegal drugs.
"As the division restlessly continues its fight against insurgency, the troopers are also one with the PDEA in freeing Northern Mindanao and Caraga from illegal drugs," Centino said.
He said the Army's participation in the fight against illegal drugs "can also run parallel" with the war against communist insurgency, which the 4ID chief noted are "priority programs of President Rodrigo Duterte."
"Illegal drugs, just like the communist insurgency, are victimizing people and destroying precious lives," he said.
For his part, Villanueva thanked Centino for his commitment, even as he expressed hope for the end of insurgency and illegal drugs before Duterte's term ends next year.
(Nef Luczon/PNA/SRNY/RSP)