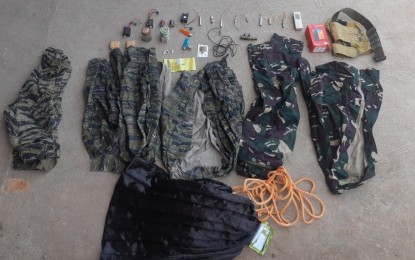 CAMP SIONGCO, Maguindanao: Army troopers foiled Thursday an attempt by the Daesh-inspired Bangsamoro Islamic Freedom Fighters (BIFF) to launch an attack against military and police installations in Datu Piang, Maguindanao.
Lt. Col. Charlie Banaag, commander of the Army's 6th Infantry Battalion (6IB), said BIFF terrorists have plotted to launch simultaneous harassments against military and police outposts in the town.
However, the Army was one step ahead of the BIFF attack plan by conducting clearing operations backed by artillery fire in barangays Alonganen and Buayan.
Banaag said the operation led to the recovery of various components of improvised explosive devices (IEDs) and uniforms used by the BIFF in the interiors of the municipality.
"Our troopers conducted combat clearing operations in the two barangays due to the reported presence of the extremists planning to conduct terroristic attacks," Banaag said.
During the operation, the 6IB troops recovered IED components and five BIFF camouflaged uniforms.
(Edwin Fernandez/PNA/SRNY/RSP)