By Bitoon a Ranao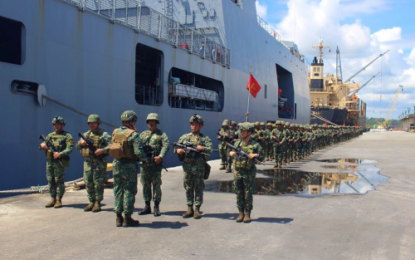 COTABATO CITY: The Armed Forces of the Philippines (AFP) has deployed on Sunday the Marine Battalion Landing Team-7 (MBLT-7) of the Philippine Marine Corps (PMC) to Sulu to help bring peace in the area.
Officials of the 6th Infantry Division (6ID) of the Philippine Army and the PMC sent off on Sunday the MBLT-7 from Maguindanao to Sulu to assist in crashing the terrorist Abu Sayyaf Group (ASG) operating in the islands.
President Rodrigo R. Duterte has earlier ordered the deployment of Marines to Sulu to finish off the ASG, and the AFP has chosen the MBLT-7 to augment the forces of Joint Task Force Jolo in the area.
MBLT-7, one of PMC's battle-tested units, had helped liberate Marawi City from the hands of terrorist groups in 2017 and was re-deployed to the coastal towns of Lebak and Kalamansig in Sultan Kudarat; and to North and South Upi and Datu Blah Sinsuat in Maguindanao after the Marawi siege.
The Marine unit had been successful in the maintenance of law and order in Maguindanao and Sultan Kudarat.
In a statement, Major Gen. Cirilito Sobejana, 6ID chief and head of Joint Task Force Central (JTFC), enjoined the Marine battalion to "bring peace to Sulu the way you helped bring about peace in Central Mindanao."
Brig. General Juvymax Uy, assistant 6ID commander, represented Sobejana, during the send-off ceremonies also graced by Major General Alvin Parreño, commandant of the PMC.
"I hope that you succeed on replicating your accomplishments, and soon bring just and lasting peace in Jolo, Sulu," Sobejana said.
Parreño reminded MBLT-7 troopers to always include prayers "in whatever you do for it is the best weapon wherever we are and whatever we do."
Parreño lauded Sobejana and the Army-led JTFC for accommodating MBLT-7 in its area of responsibility in Central Mindanao.
"We would like to thank the JTFC for accommodating us for we have seen high brotherhood and solidarity in the AFP," Parreño said. (MNY)