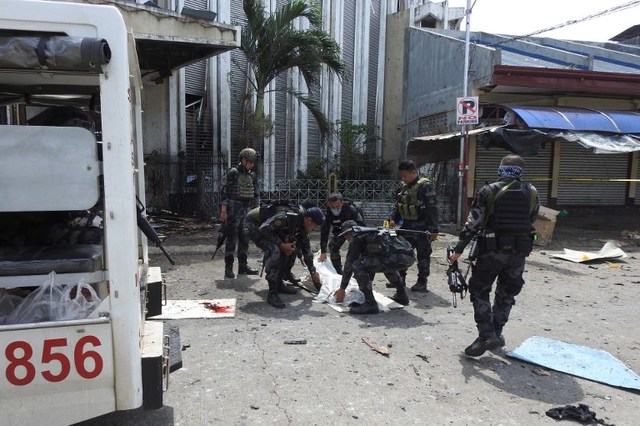 Philippine security personnel carry a body bag containing the remains of a blast 
victim after two
bombs exploded at the cathedral in Jolo, Sulu, on January 27, 2019. 
Photo by Nickee Butlangan/AFP
MARAWI CITY, Lanao del Sur: Muslim religious leaders condemned the twin bombings on the Mount Carmel Cathedral in Jolo, Sulu where at least 20 people died and 112 others were wounded.

Aleem Said Ahmad Basher, chairman of the Organization of the Imam Council of the Philippines, said the Muslim community was saddened about the "inhuman" attack in a house of worship like the Cathedral in Jolo for which the international terrorist group, Islamic State, has claimed responsibility.
"We strongly condemn these inhuman atrocities because of its barbaric in nature and which is forbidden in Islam," Basher said.
"This barbaric act is not accepted in Islam because it does not only destroy the living of peace but demolishes the tranquility of a sound society," he said.
Imam Kamil Unda, leader of the Ahlul Bait in the Philippines, another sect of Islam, said such an act was barbarous and must be condemned in the strongest terms.
"Based on the Qur-ān 22:40, houses of worship of the Jews and Christians must be protected," Unda said.
He said the Prophet of Islam strictly forbade the killing of civilians, children, women and the elderly in time of war.
Both the Moro Islamic Liberation Front (MILF) and the Moro National Liberation Front-Jikiri Faction have condemned the bombing.
MILF chairman Al-Haj Murad Ebrahim, in a statement, said the MILF leadership joined the peace-loving individuals in strongly condemning the twin bombings.
"The MILF commits to assist in gathering information that can lead to the identification of the perpetrators and their eventual arrest. We are very willing to coordinate with the security sector and the local government officials of Sulu in the investigation of this terroristic act," Ebrahim said.
Yusop H. Jikiri, chairman of a breakaway MNLF faction, condemned in the strongest term the bombings for the great loss of innocent lives and for causing pain and suffering to the big numbers of the injured.
Jikiri's MNLF faction joined the MILF in the pursuit of peace in the Philippine south through the framing of the Bangsamoro Basic Law (BBL), which Congress has enacted into the Bangsamoro Organic Law (BOL).
Meanwhile, Vice Governor Haroun Alrashid A. Lucman, Jr. of the Autonomous Region in Muslim Mindanao (ARMM) believed that the perpetrators had a political motive that had nothing to do with local issues.
"Religion has never been an issue in Sulu. Christians in that province live well with the Tausug for centuries," Lucman said. (With a story from ASA T. MADALE)